Company News • 23.05.2016
New API to help retailers bridge technology gaps for omnichannel success
New data reveals 27 pecent of retailers find disparate systems as top inhibitor to growth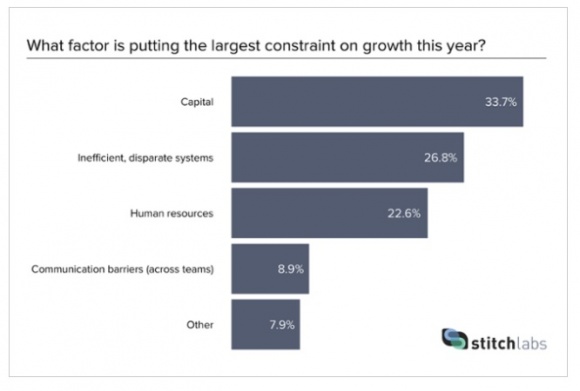 Source: Stitch Labs
Stitch Labs has announced the launch of its API to help retailers quickly innovate and streamline their operational infrastructure. This technical flexibility is critical for retailers to be successful in today's dynamic eCommerce environment full of competition and rising consumer expectations.
The commerce technology landscape is rapidly evolving, and retailers find themselves struggling to both adapt and unify their systems. According to a new survey of U.S. retailers, 27 percent say disparate systems are the top inhibitor to growth. Perhaps this is the reason inventory management is the No. 1 priority for retailers this year, with 27 percent saying they plan on investing in such solutions. The survey also found that retailers' biggest fear when it comes to adopting new technology is the time it takes to implement it, while 36 percent say interoperability is the most important factor to consider when adopting these new solutions.
To meet these demands, the new Stitch Labs API enables mid-market businesses to create custom modifications and additions to the Stitch platform so that it can connect to the existing and future solutions they need to run a successful business. One in five retailers use more than 10 applications to run their business, and the API will help them integrate these apps seamlessly. Sales channels, accounting software, and third party logistics (3PL) providers will all be linked to the heart of omnichannel retail -- the inventory.
"An omnichannel experience is what shoppers expect in today's retail environment, so businesses must be able to operate multiple channels seamlessly in order to compete," said Jake Gasaway, Stitch Labs co-founder and VP of Platform. "To succeed in commerce, retailers must be able to embrace and implement new technologies as quickly as the space is evolving."
The creative workflows and solutions allowed by the new API enable eCommerce companies to differentiate themselves in a competitive market. For example, Chubbies leverages the APIto connect customer order history, rewards program information and 3PL details to implement a customer loyalty program that has contributed to a 98 percent customer satisfaction rating.
"Stitch's custom API allows us the flexibility to make changes very quickly as we grow," said James Hargett, Fulfillment Contractor at Chubbies. "It's going to be hugely instrumental for companies to gain access to new functionalities and efficiencies and to position themselves strategically in the market against competitors."
The importance of APIs will only increase as the retail world further migrates to the cloud. Currently, half of retailers (49 percent) say over three-quarters of their solutions are SaaS/cloud-based, and the trend is on the rise; 78 percent say their most recent technology purchase was of a SaaS/cloud-based product.
The new API is included in Stitch Labs' Enterprise and Enterprise Plus packages. For customers who do not have a developer on staff but still want a customized solution, Stitch has partnered with a select group of developer partners to assist customers with their more complex workflows.
Additional insights from the new survey reveal:
53 percent of retailers are optimistic heading into the second half of 2016
83 percent believe industry sales will improve this upcoming holiday season versus last year
36 percent plan to maximize holiday sales by offering free shipping in the face of an economic slowdown
22 percent are excited at the thought of drones' or droids' place in the future of eCommerce