Product • 16.03.2016
Video-controlled LED-lighting for an optimum energy efficiency
Nowadays warehouses and transshipment halls are more often equipped with LED-lighting.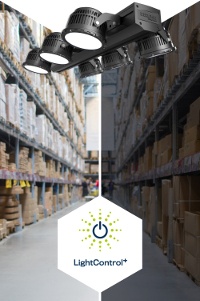 Source: Deutsche Industrie Video System GmbH
Nowadays warehouses and transshipment halls are more often equipped with LED-lighting. A good, homogeneous illumination of halls and low operating costs are decisive parameters for many logisticians.
As a specialist in logistics solutions, DIVIS now offers high savings potential and at the same time an outstanding video image quality with an intelligent control of LED-lighting over the video system.
In addition to the logistical quality, efficiency is the focus of many logistics companies. Here, DIVIS provides decisive added value with its video surveillance for shipment tracking. Across Europe, more than 380 logistics companies already rely on the innovative solutions for transparent processes.
An important element in cost optimization is the energy cost effectiveness. Besides Gate+ - an analysis of the condition of the doors allowing to control how long the doors have been open - DIVIS now presents Light Control +. This innovative solution automatically and appropriately controls the LED-lighting.
The video system detects motions in the logistics hall and switches on - via a patented navigation screen- the LED-lighting in the relevant hall areas. In addition to the illumination of large logistics areas, this causes an optimum efficiency in the illumination of rack rows. Frequently movements only take place in some areas so that a continuous lighting would be uneconomical. In addition, the conventional lamp technology as well as the alarm systems in high logistics halls are extremely inefficient.
Combining the DIVIS video technology with a special lamp technology - that provides a homogeneous lighting with high intensity from a great height - a modern logistician can achieve shortest payback periods at lowest energy costs. For a smooth implementation in the existing operation, DIVIS plans, delivers and implements the video and LED- lighting technology from a single source.
Good lighting improves your productivity. The perfect illustration of logistic processes offers security. The combination of video technology and LED-lighting means an innovative solution for a sustainable increase in quality and efficiency in logistics companies.