LED • 22.12.2016
Vibrant light stagings fascinate shoppers
Physical retail increasingly uses LED store lighting to stand out from competition
At EuroShop 2017 the lighting sector with some 200 international exhibitors will again be a major attraction for store owners, architects, lighting designers and shop fitters.
LED lighting has long since heralded in that often talked-about shop lighting revolution; in the increasingly digital and networked retail world this is now also becoming more and more of an experience.
Luminous intensities and colours vary according to daylight – just about any light atmosphere can be created on the retail space, custom lighting solutions can be created and the quality of stay of shoppers and staff can be enhanced – via simple gesture control, user-friendly Apps or a professional lighting control system. Dynamic lighting becomes an attractive design element, which can also decisively contribute to and emotionalise a company's branding.
Indeed as is the case in many outlets of the Argentinian department chainstore Falabella. This company had its outlets equipped with a modern and flexible LED lighting concept made by Mülheim-based light expert Ansorg. By means of a lighting control App seasonal focus areas such as the catwalks can be dynamically lit and, hence, highlighted. Fluctuating levels of brightness activate shoppers, fill store designs with life and attract shoppers' attention to selected ranges.
This is made possible by digital light control and networking, which are capable of adding hitherto unseen flexibility and dynamism to the overall light orchestration. Electronic control systems orchestrate a multitude of natural and artificial light sources and light scenes into a consistent lighting concept that flexibly adapts to changing cycles and seasonal collection changes.
Likewise, digital signage and the merging of other light sources such as lit shelving or screens with the light scene in the store is gaining in importance in this context. At the same time, this approach to lighting management works towards cost-conscious retailers' high aim of making this "brave new" shopping world as energy-efficient as possible.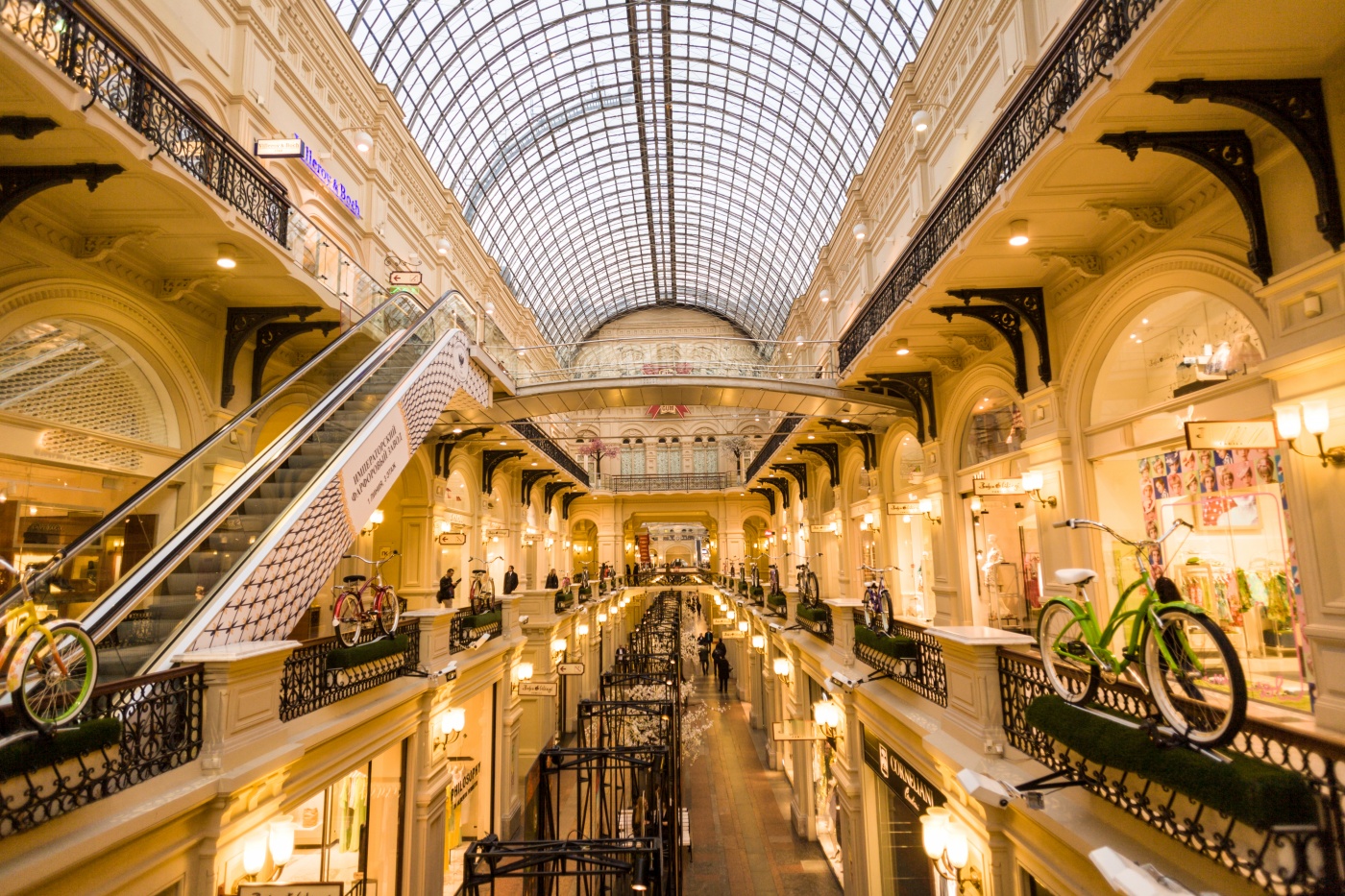 Source: panthermedia.net/Wassiliy
Giving shoppers more positive experiences and inspirations – for bricks-and-mortar retail this task is becoming increasingly important so as to stand their ground in the face of powerful clicks-and-mortar competitors. As a result, humans with their individual needs and expectations are moving back into the focus of store operators', light designers' and architects' attention.
Higher quality of service in retail is promised by other new applications and innovative services showcased in the lighting area of EuroShop as store owners' needs and a unique customer journey are always centre stage here.
Philips, for example, presents a light-based indoor-navigation system enabling shoppers to locate the desired products on the retail space without wasting time. Initial pilot projects already exist in food retail such as a Carrefour outlet in the French city of Lille equipped accordingly by Philips – or Aswaaq, a retail company in the United Arab Emirates that uses this indoor-navigation system at one of its supermarkets to improve customer service.
The changeover to LED technology has also given luminaire design an enormous boost. Designers and luminaire manufacturers enjoy endless freedom to "mould" light into any desired shape or, conversely, to integrate light into any given form. The new luminaire types take on many other functions in store design – becoming indoor sculptures, design objects or an integral part of corporate architecture. There are parallel developments visible in these luminaires' language of form: on the one hand, the miniaturisation of light sources is ongoing.
Architects use minimalist luminaires that appear as pure light rather than light fittings to stage a room's architecture with linear fittings. Interior designers and store designers, on the other, opt for bigger, eye-catching luminaire designs which – installed alone or in groups – enhance the desired styling concept thereby deepening its emotional impact.
Again warmly recommended to EuroShop trade visitors is a visit to the Lighting Designers' Zone in Hall 11. In the wake of digitisation and the increasing complexity of modern store lighting demand for support and consulting services in retail has grown markedly.
Many store owners are faced with major decisions concerning unresolved issues related to LED lighting and the desire to make assured investment. This is why independent light designers specialising in the retail sector will again be available on this platform to inform the international expert audience about current projects and lighting design options and/or to advise them on individual lighting solutions.

© Start photo: panthermedia.net/fiphoto