Report • 13.11.2017
Using lighting systems for indoor positioning
All about beacons and visual light communication
The smartphone has become the indispensable everyday companion of consumers. A fact that retailers currently still don't take enough advantage of. Meanwhile, indoor positioning systems by way of smartphone are not only able to deliver valuable information about buyer behavior but also create added value for customers through product choices or navigation aid.
Beacons have experienced a veritable boom since 2013. Apple introduced its iBeacon standard that same year. In 2015, Google followed suit with Eddystone. Many application scenarios in the field of indoor navigation and location-based services have been tried and tested since then. Unlike GPS solutions, they have many proven benefits, yet the technology continues to suffer from the usual growing pains: installation, range, and battery life. Until now, retailers looking to take advantage of beacons had to choose systems that required additional, often battery-operated equipment and were also cumbersome to install and service. This is where in-store lighting systems have recently started to come into play.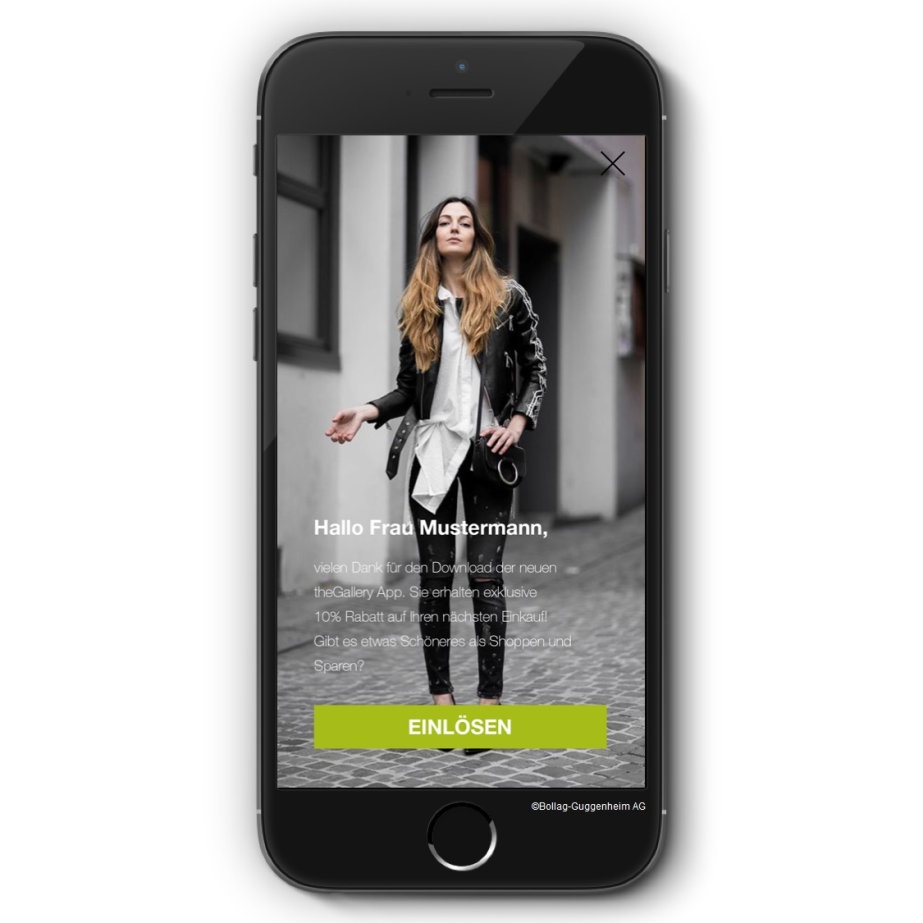 Source: Bollag-Guggenheim AG
Integrated beacons in light fixtures improve location-based services
Ideally, great lighting reaches every corner of a store. Retailers can utilize this existing infrastructure to create positioning grids. The beacons are directly integrated into the light source. This ensures continuous power supply, while the technology requires virtually no maintenance.
The beacons are able to send Google or Apple compliant signals. The actual beacons don't collect and store any personal data. This is done via a corresponding shopping app that discloses what user data is stored or not in its general terms and conditions. The app subsequently triggers special offers or information on the customer's smartphone.
In its Marc O'Polo stores in Switzerland, the Bollag-Guggenheim AG was already able to add to its bottom line by using integrated beacons in its lighting fixtures. Once they enter the brick-and-mortar stores, customers are being rewarded with personalized welcome messages and sales offers via the smartphone app. In turn, Bollag-Guggenheim benefits from comprehensive information about the buying behavior of its customers. By integrating the existing POS/CRM systems, Bollag-Guggenheim is able to manage the data from all sales channels in a clear and transparent manner.
More installed in-store beacons increase the accuracy of the digital positioning network. That's why it is also possible to use the technology for indoor navigation purposes. Since every beacon has its own identity (location ID), they don't interfere with each others' transmissions. A smartphone equipped with the corresponding app can analyze the signals based on their strength and determine the user's position via stored topographic data. A route to any point of interest can be calculated and displayed based on this position.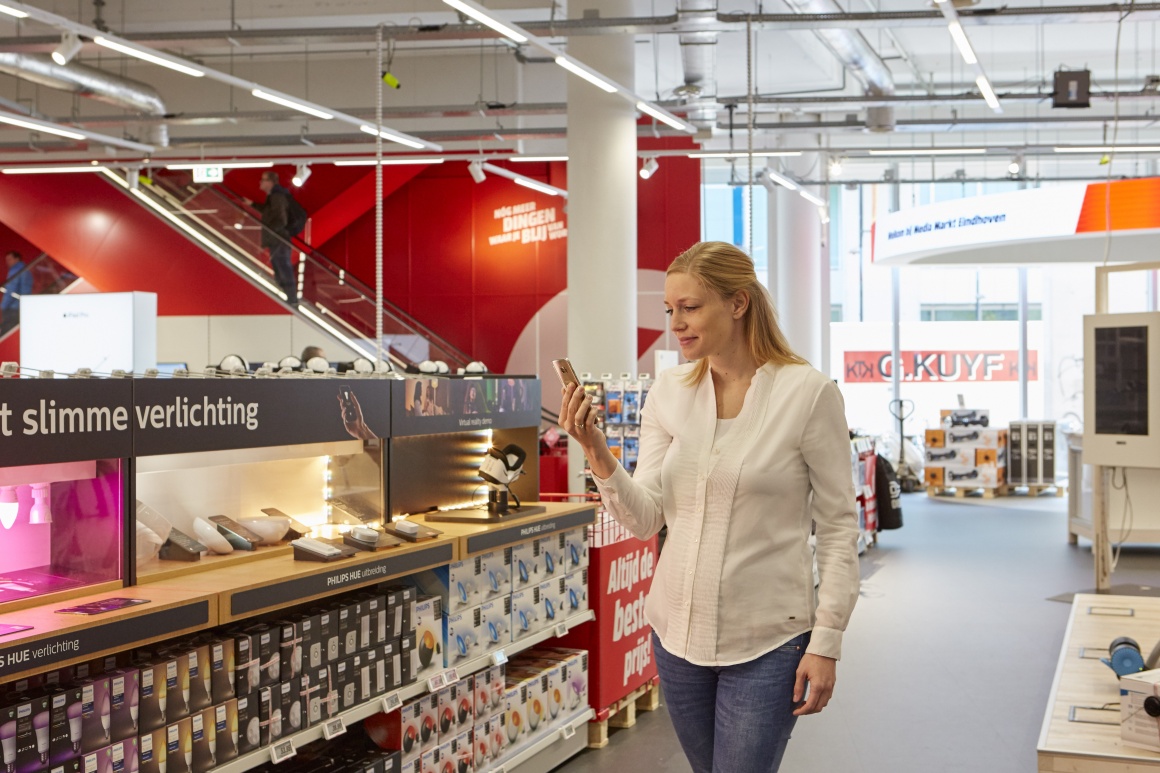 Source: Philips Lighting
Visible light communication makes indoor navigation easier
Next to beacons, there are other positioning solutions that are also integrated into lighting systems, for example, visible light communication (VLC). In this case, every lamp transmits a digital data stream via VLC in one direction. This data stream is invisible to the human eye but is detected by the smartphone camera. Since VCL is embedded directly in LED luminaires, it doesn't require any additional installation, service or power supply. As is the case with beacon technology, the luminaires also provide the infrastructure for the indoor positioning system. Retailers can embed the positioning functions into their own mobile applications via an iOS or Android software development kit and cloud service.
Media Markt's flagship store in the heart of Eindhoven already utilizes this technology. With the help of the so-called "Store Guide" app, customers are not only able to search for specific products in the store but can also find the corresponding department by using the matching umbrella term. The app indicates the customer's current position and changes the location in real-time as he/she moves.
Once again, no personal data is requested, collected or stored in this case. The mobile device's location is recorded anonymously. The system does not save a link to user IDs or names. The app only uses the encoded location information to provide location-based services. Customers can deactivate the app at any time.
To interact with customers, retailers can also point out location-based sales and transmit relevant information and notifications. Similar to the beacon technology, each luminaire sends a unique code, which is recognized by the app's software.
More about lighting in retail: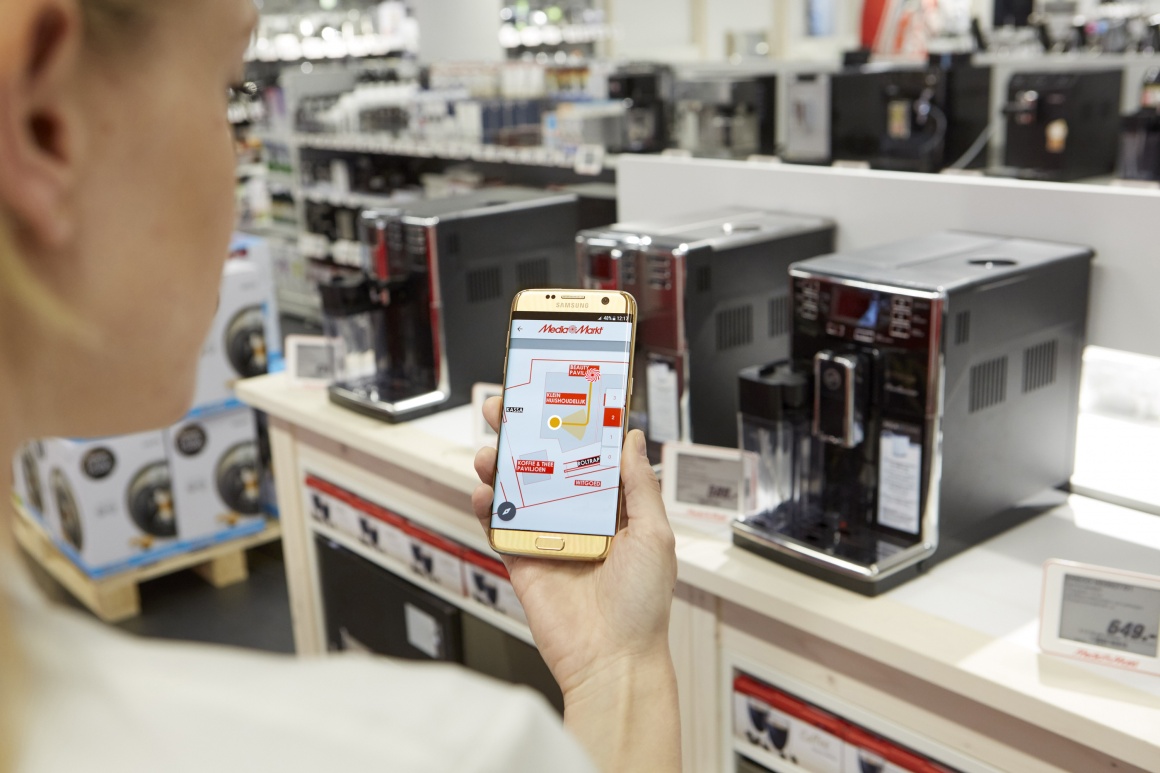 Source: Philips Lighting
Pros and cons – beacons vs. visual light communication
The advantage of the visual light system is its precision. The location of the customer's smartphone can typically be narrowed down to a 30-centimeter range. The range of beacons measures between 30 and 100 meters, which makes it somewhat difficult to determine individual products. The accuracy at shelf level is approximately 50 centimeters and depends on the beacon density in the store.
One drawback of VLC technology is that it only works when the light falls right into the camera. What's more, the smartphone must also be kept in a horizontal position for optimal light exposure. This is the only way to generate the respective data, which can then be analyzed by retailers. In other words, the service is ultimately aimed at active navigation. Due to its high positioning precision, VLC enables a product-specific determination.
Beacons are one step ahead when it comes to location-based services. After all, the technology still works even if the smartphone is in someone's purse. Another advantage of beacons is the fact that they can be retroactively integrated into the respective lighting infrastructure. In contrast, VCL technology calls for the complete replacement of lighting systems.
Having said that, the hardware is ultimately not what's important. What's essential is the customer experience it can provide. This is where every retailer has to individually decide on the experiences he/she wants to create. The golden rule is always to offer customers selected information or choices. Too many push notifications greatly spoil the shopping experience.