Company News • 09.05.2014
Toshiba announces new comprehensive range of high-quality spotlights for retail lighting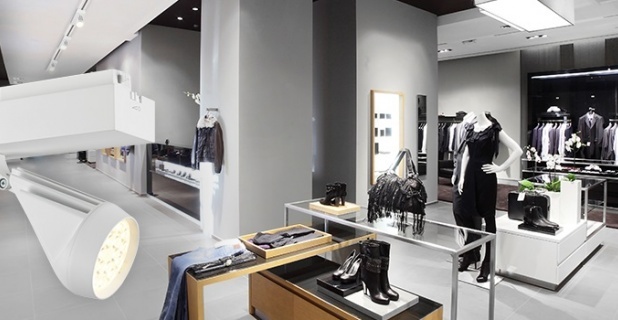 Toshiba announces another development in its commitment to LED innovation with the release of new fixtures for retail use that cater for the enhanced lighting requirements of shop environments.
The LED NEOACCENT series comprises three models that provide elegant, precise and focused accent lighting, each with a designated set-up for different architectural needs. Combined in one space, this comprehensive matching product line up is designed to show shop displays in their best light, with ultimate clarity and brilliance.
Flexible and clear lighting for all retail needs
The NEOACCENT range highlights products where it matters, with accuracy and flexibility. Bundling light to one point has always been a challenge for LED technology, but Toshiba's line up overcomes this with designated lenses that achieve precise beam angles and strong CBCP. This ensures minimum light overspill, for a direct and consistent accenting at different degrees angles. This light quality also means that the product is lit to its best advantage, and with two colour temperatures (3000K and 4000K), different lumen classes and three housing colours, users are able to achieve the exact specifications needed for any situation.
The range comprises 3 models:
The Tracklight, with 3-circuit universal adapter and independent dimming lever at the gear box
The Recessed Extractable fixture features a DALI controllable gear and lighting head adjustability
The Recessed Battery offers great flexibility with single, double and triple installation frames and individual lamping
The consistency of the dynamic design language of all the components in the range allows for an easy combination within one installation. Says Eva Bierbaumer, Product Manager at Toshiba Europe, "The new Toshiba NEOACCENT range is further evidence of Toshiba's aim to continue to innovate in the sector, with adaptable and easy-to-use LED solutions for all retail occasions and locations. We are committed to our goal of cost-effective and efficient lighting."
A range to meet all retail needs
A complete series of tracklights, recessed extractable and battery luminaires in one continuous design
Its compact shape and unique, still unobtrusive look means it integrates perfectly into various shop layouts / architecture
Lumen packages: Up to 1700 Lm (20W HID replacement) or up to 2600 Lm (35W HID replacement)
System power consumption: 22W / 32W
Luminaire efficacy: Up to 81 Lm/W Range of precise beam angles: 15° / 25° / 35°
Colour temperatures: 3000 K / 4000 K
Excellent colour rendition: Ra 85
Additional high CRI filter to achieve Ra 96 available as accessory
With designated mechanical characteristics such as:
Housing made from die-cast aluminium
Optimized design for passive cooling
Toolless installation Colours: white, silver, black
Easy and toolless mounting of additional high CRI filter
Supplier

Hammfelddamm 8
41460 Neuss
Germany