Company News • 23.06.2016
Shopping in the Box
Osram sets Dubai's urban shopping mile in scene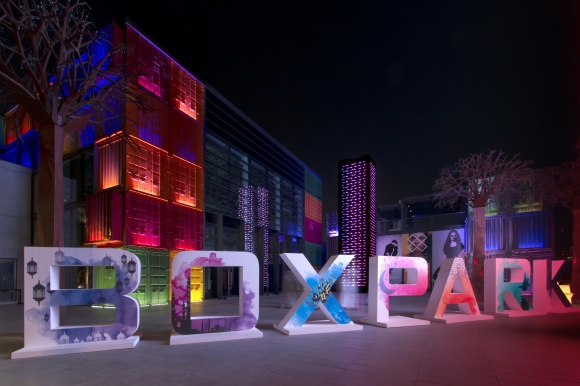 Source: Osram
The Box Park is a modern, urban lifestyle complex in Dubai. With a length of 1.2 kilometres it offers special shopping and entertainment possibilities and also accommodates nusual restaurant concepts from around the world. Dynamic lighting from Osram Lighting Solutions transforms the building facades of the shopping boulevard into multicoloured screens for playing a variety of light atmospheres.
The shopping mile with its interplay of modern architecture and the look of storage boxes and shipping containers is a highly diverse alternative to the standard mega-malls normally found in Dubai. The architects and designers divided the site into ten themerelated zones to create a really special shopping and leisure experience for visitors. These zones reflect world-famous locations such as New York's Times Square and
Broadway, London's Harrods and Paris' Moulin Rouge, and dynamic lighting solutions from Osram create precisely the right impressions and moods for the zones with different colours, videos and photo images. Pink and orange tones as well as hearts and windmills dominate for example in the Moulin Rouge area.
The lighting is made possible thanks to Traxon LED luminaires such as media tubes and Nano Liner Allegro AC XB as well as the e:cue light control system. The largest technical challenge in the project was developing a system able to control all dynamic elements contributing to displaying the diverse themes. Osram enabled control of the dynamic luminaires, gobo projectors and ground-recessed luminaires independent of the specific producer.