Company News • 15.02.2023
MOVA X-CHANGE – shop spotlight with changeable LED
Molto Luce at EuroShop: More flexibility, energy efficiency and sustainability thanks to easy changing of the COB module
With the innovative X-Change technology the Austrian specialist and manufacturer of modern lighting solutions, Molto Luce, offers an easy-to-change Chip-on-Board LED module (COB-module) which brings a lot more flexibility, energy efficiency and sustainability. A great benefit for all professional fields of application, also in the retail sector.
Supplier

Europastraße 45
4600 Wels
Austria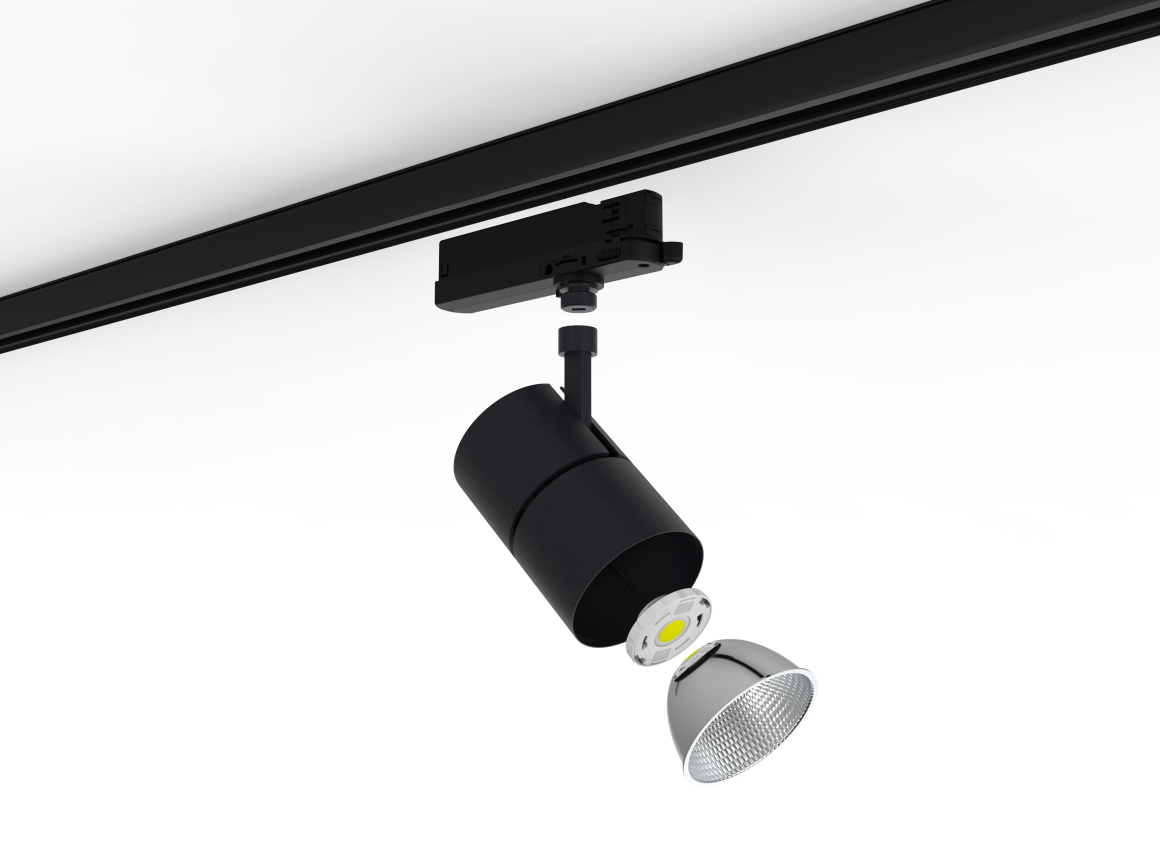 Source: Molto Luce
X-Change technology for environment and adaptability
The Molto Luce X-Change technology is used, for example, in the MOVA track spotlight. The versatile spotlight series, which is primarily used in the retail sector, thus offers a functional solution for making adjustments quickly and at the lowest possible cost.
---
Visit Molto Luce at EuroShop, hall 9 stand C24, from 26.02. to 02.03.2023 in Düsseldorf, Germany.
---
The COB can be changed completely without tools, with the aid of a bayonet lock, and can also be changed directly on the track. The Molto Luce X-Change technology thus also supports the rapid and cost-effective changeover to new, more efficient COB generations, which means immediate benefits in terms of effect and costs. Furthermore, this new technology allows to easily adapt the spotlights to new lighting tasks. The COB module as well as the driver or even the reflector can be replaced in just a few simple steps. Different light colours or CRI values can be implemented in an easy way, quickly and at comparatively low cost.
In addition, it is a sustainable solution, because less material waste as well as lower transport costs are ensured through a simple COB exchange, what protects our environment. Moreover, the efficiency increases achieved through lower power consumption with the same luminous flux output results in a more positive environmental balance. The innovative product MOVA X-CHANGE was awarded with the "German Ecodesign Award" in 2022.
Find out more about innovations in retail lighting on the Molto Luce website or from 26.02. to 02.03.2023 at EuroShop, hall 9 stand C24, in Düsseldorf, Germany.