Report • 31.03.2014
Modern Lighting Design: Trends by Lighting Designers
Light, the all-rounder creates ambience and accents like no other means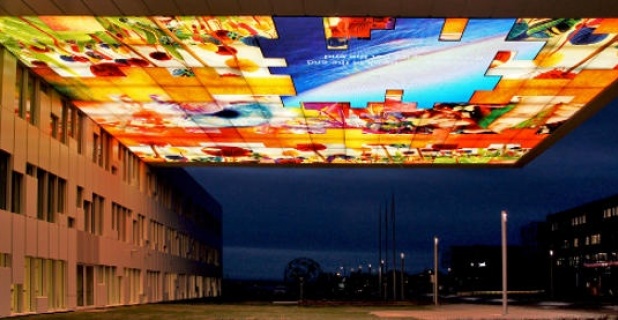 This year's EuroShop revealed how retailers can put their products in the right light in the future. Lighting designers and shopfitters skillfully vied for the attention of the expert audience and showed the trends of the upcoming years.
If you didn't see the light at this year's EuroShop, you were probably wearing sunglasses. From a booth that changed its entire color scheme within seconds to a Lamborghini that bathed in continuously variable lighting conditions all the way to the chillout lounge, exhibitors were showing off modern light installations. Apart from eye-catching large-scale projects however, it was also the small arrangements that were worth looking at.
The lighting effects in the halls were surrounded by international voices – you could hear a Spanish debate here and an English negation there, while some people marveled in French. Many international visitors took advantage of having so many lighting elite members in one spot. Like Frenchwoman Justine Tkatchouk from the 1.2.3. Company for instance: "At the EuroShop, I look around for interesting lighting trends for our stores on behalf of my company."
Michail Shchedrin, who arrived especially for the occasion from Russia, also specifically searched for inspirations for the store design of his beauty shops: "We want to see what options we have to highlight our products even better. So far, we are using many bright lights. I personally find it particularly interesting that also traditional lighting techniques are used in a new way at the EuroShop."
The lighting trends at the EuroShop
This year, Messe Düsseldorf paid particular attention to the subject lighting. Apart from the already large number of lighting exhibitors – more than 240 -, there were two new themed areas. For the very first time, lighting designers were able to combine their products and introduce them in the "Lighting Designers' Zone". In addition, the "Italian Lighting Lounge" showcased the latest products by Italian interior and exterior lighting suppliers as well as suppliers from industrial design.
Lighting designer Joerg Krewinkel from the "Lichtkompetenz" lighting design office in Switzerland was one of the exhibitors at the "Lighting Designers' Zone". He creates lighting concepts all over the world and knows his way around lighting trends: "Interactive lighting is an emerging topic. There will be active, dynamic solutions in shop windows, since today apps make handling easier. General handling of lighting is also meant to and will become easier."
He also states that the use of light in stores is also going to change. The illumination level is no longer highlighted, but in the future, it will be more about contrasting areas in the store. He also sees the trend towards light moving closer to the products, so that they disappear less in diffuse lighting.
Hendrik Lenfers from guttenberger + partner could be seen at his company's booth at the EuroShop standing under a softly lit ceiling, which immediately created a homey atmosphere. "This is a light box, an aluminum profile, which is illuminated by LEDs behind it. It is covered with a textile print design that can be easily changed," the lighting expert explains and adds: "Right now, we use these frames a lot."
While it is important for the store area to create a good ambience, he states that the trend in illuminated signage right now is to create emphasis that is striking, but still fits into a harmonious overall concept. Filigree Stylet letters and full acrylic letters LEDs are poured into, help with this.
Efficient thanks to LED
LEDs are efficient, have a low thermal load, and are therefore decreasing energy consumption in supermarket freezer systems and costs for air conditioning in furniture stores. According to licht.de of the Association Gutes Licht ("Great Lighting"), lighting expenses make up a significant portion of energy costs. In the textile industry for instance, they amount to 64 percent. This is why the rapid development in terms of energy savings is all the more beneficial.
This is the reason lighting designers prefer to use LEDs. Joerg Krewinkel explains: "LED lighting has caught up with traditional lights. A lot is still going to happen in the coming years in this area." To be able to assess and influence energy as well as the impact of lights, lighting designers are increasingly pursuing their own ways at the moment. More and more companies such as Lichtkompetenz and guttenberger + partner develop their own spotlights and LED lights.
Natascha Mörs, initial publication EuroShop.de