Product • 03.03.2005
Lighting system 901 PE SOF OS-SP and 901 SOF OS SP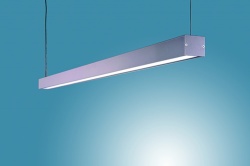 A perfect technical lighting system concealed behind the diffuser plate of the luminaire:
the mirror in highly reflective MIRO aluminium material in conjunction with the slim T5-lamps provides a targeted beam. In compliance with the user's requirements, the luminaire can either be laid out with more intensive deep-beam or for a diffuse broad-beam characteristic.The miniature construction with a cross section of 60 x 70 mm opens up a broad spectrum of possible applications and is suitable for use as a general illumination system in office environments just as for shops, counters and displays.
The extruded aluminium profile is painted in RAL 9007 (grey aluminium). 901 offers a choice between surface mounted or suspended versions. The asymmetric surface-mounted and the suspended luminaires supplement this sophisticated range.
Supplier

Frühlingstr. 15
86415 Mering
Germany