Product • 21.08.2007
Light stele TROFEO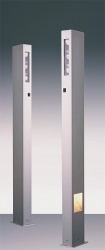 The designers of the light stele TROFEO (with 6 LEDs 6W and 50W/12V IRC) successfully managed to combine an individual reading lamp with a floor illumination inspired by safety regulations in such a clever way that the calm atmosphere required, for example, in wellness zones remains utterly unperturbed. The luminaire comes with dimmable Luxeon LumiLED's (3 each à 1W) that are integrated on either side and covered by a clear and transparent plastic shade capable of providing light strong enough for reading. A halogen lamp with an indirect light beam (50W/12V IR) is integrated as orientation light in the lower third of the luminaire's front. Anyone more inclined to LEDs can alternatively fit the luminaire with high performance LEDs with 1.56 W in COB-technology (Chip on Board).
The luminaire is firmly anchored into the floor with screws so that no wires obstruct the appearance and the intended geometry is retained in style.
TROFEO is made of extruded and enamelled aluminium.
Supplier

Frühlingstr. 15
86415 Mering
Germany