Interview • 24.01.2022
Let there be light – or not ...
Lidl and SageGlass join forces on energy efficiency and lighting
For some time now, discount grocer Lidl has been relying on intelligent façades from SageGlass – for the environment, staff and the right light. We asked both companies what this technology means for lighting, energy consumption and everyday work and shopping in the stores.
Why did you decide to use smart, self-tinting solar control glass in some of your stores?
Lidl: Sustainability plays a crucial role in the construction of our stores. That's why we were the first food retailer in Germany to decide to use smart solar control glass in a large number of our stores. SageGlass is used, for example, in our Lidl metropolitan store in Frankfurt-Niederrad in Germany. We have now equipped around 150 stores with it.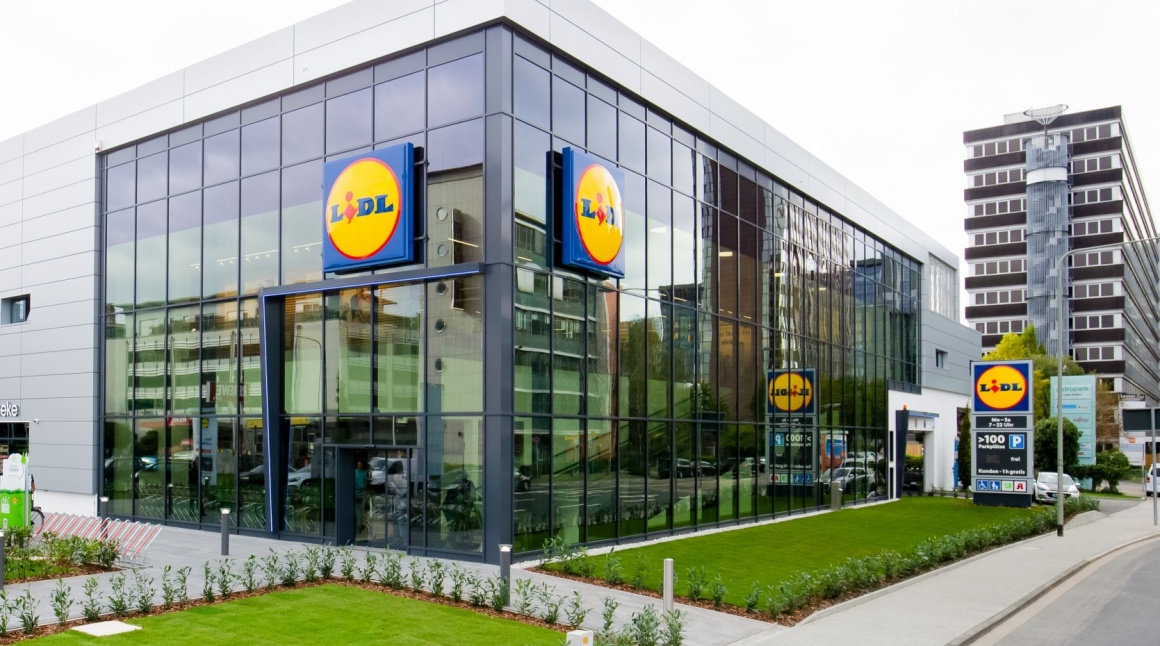 Source: Lidl
What are the advantages for the stores where the glass is used?
Lidl: Thanks to its outstanding thermal properties, the glass produced by SageGlass reduces interior heating at high outside temperatures and thus reduces the air-conditioning capacity required. In this way, large amounts of energy are saved. Thanks to the very good glare protection with maximum use of daylight and the natural color rendering, we also create a pleasant shopping atmosphere for our customers and optimum working conditions for our employees. Compared to other solar control solutions, the glass is also maintenance-free.
What is the technology behind the glass facade?
SageGlass: It is an electrochromic (or dynamic) glazing. The SageGlass pane is coated with five layers of ceramic material whose total thickness is less than one-fiftieth of a human hair. When an electrical voltage is applied, ions migrate from one layer to another. The coating darkens and light is absorbed. In other words, the glass gets darker. If the polarity of the applied voltage is reversed, the ions return to their original layer and the glass becomes brighter.
The change in brightness also affects the amount of heat that enters the building: In its clear state, the glass allows a maximum amount of heat to pass through, helping to passively heat the building in the cold season, while in its darkest state in summer it blocks up to 97 percent of the sun's heat, reducing the need for air conditioning.
Smart building management is becoming more and more important when it comes to saving energy, why?
SageGlass: Buildings account for almost 40 percent of total energy consumption and CO2 emissions worldwide. To meet international climate targets, buildings must meet increasingly stringent environmental requirements. Energy savings during operation are at the top of the list. Dynamic glass can reduce building energy consumption by up to 20 percent compared to alternative high-performance façade solutions.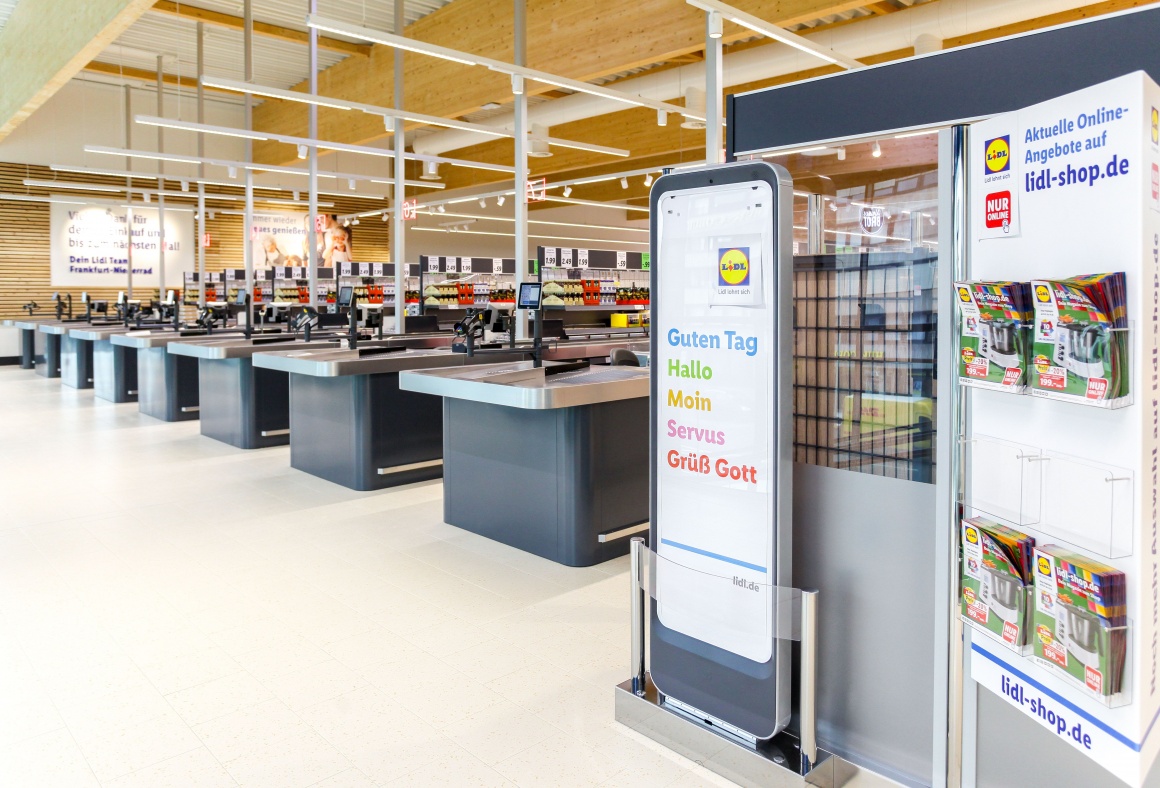 Source: Lidl
Energy efficiency now also plays an important role in food retailing. Why is that?
SageGlass: Food retailing has to deal with refrigerated and perishable goods. The energy demand for air conditioning, refrigeration and freezing equipment is high. In order to noticeably reduce raw material consumption and CO2 emissions, holistic concepts are required that consider not only individual technical devices, but the building as a whole. The facade plays an essential role here, as it determines the amount of light and heat entering the building.
What advice would you give to retailers who are concerned with the topic of energy efficiency and want to make a change?
DGNB: Deutsche Gesellschaft für Nachhaltiges Bauen = German Sustainable Building Council
SageGlass: Environmental certifications such as LEED and DGNB provide good guidance and should be considered during the design process. These labels award points for sustainable design and reduced energy consumption while increasing comfort for building occupants and users. SageGlass can contribute to obtaining these labels. There is also a trend toward simplified and lighter façade systems that reduce operating costs for maintenance and cleaning, as well as the building's energy and resource consumption.
Are there any other measures you are taking to increase energy efficiency at Lidl?
Lidl: Modern Lidl stores do not use fossil fuels, require 100 percent less primary energy sources and thus generate around 30 percent less CO2 emissions compared to a conventional grocery store.
The store is heated and cooled using a particularly efficient concrete core temperature control system. State-of-the-art ventilation systems with heat recovery and good thermal insulation save further energy. Modern, energy-saving LED lighting reduces electricity consumption in all Lidl stores in Germany by around 42,000 kilowatt hours and carbon dioxide emissions by around 17 tons per year compared with conventional lighting.
LEED: "Leadership in Energy and Environmental Design" certification process by the German Green Building Association