Product • 19.03.2014
Lextar to Release Next-generation Ultra-Slim Direct-lit LED Panel Light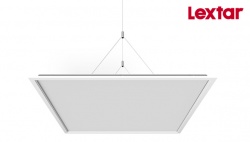 Lextar Electronics Corp. will release an ultra slim direct-lit panel light. Only 28mm in thickness, this new product is free from the stereotypically bulky exterior of its comparable products. Besides, it minimized the number of LED thanks to Lextar's state-of-the-art direct-lit backlighting technology.
Lextar's new ultra-slim direct-lit panel light features low glare, creating a new alternative for customers who value both aesthetics and light quality. The Company will debut this new product at "Light + Building Frankfurt 2014" from March 30th through April 4th ,2014.
Lextar's new 600 x 600 mm ultra-slim direct-lit LED panel light is intended for Europe market where aesthetics weighs as much as functionality in a product. It is merely 28mm in thickness, a 40% of slimness against other comparable products. Furthermore, it is the first direct-lit panel light available on the market that is suitable for suspension. Lextar adopted the latest direct-lit technology, which comprised its LM-80 accredited high power LEDs and optical lenses. Within the limited optical distance, this panel light provided uniform light distribution while minimizing the number of LED. Moreover, a special diffuser was embedded to achieve low glare (UGR<19) and to make this product especially applicable to office, libraries and schools where higher lighting quality is required.
"Lextar has been noted for its backlighting excellence, and released its LED panel lights as early as in 2010, giving itself vast optical experience in panel light, said Francis Wong, Director of Lighting Product Business Division of Lextar. Using the latest direct-lit backlighting technology, this product was exquisitely crafted by its dedicated Industrial Design team who insisted on giving both aesthetic appeal and cost-effectiveness to the product, aiming for a significant sales in Europe market. In addition, this new panel light can last as long as 40,000 hours to meet the quality requirement for European lighting fixtures. The product will be commercially available in Q2 this year.
"Light + Building Frankfurt 2014" continues to be the leading lighting show in Europe that takes place every two years. This is the third time Lextar participates in this show. Lextar will showcase a series of LED luminaires including a series of panel lights, troffer, base light, skyline and downlight.
Visit our exhibition site to know more about Lextar's exhibit at Light+Building 2014.
Source: Lextar Electronics Corp.