Interview • 25.03.2020
Invisible light sources and dynamic lighting solutions in retail stores
"All the trends in the lighting industry focus on improving the shopping experience."
LED lights for retail stores have witnessed significant growth over the past few years. You would be hard-pressed to find any newly constructed store without these small, efficient lighting sources. Meanwhile, many existing stores and supermarkets also convert to LEDs. Miniature lamps and dynamic lighting solutions are top trends. LUMITECH Lighting Solution CEO Stefan Tasch enlightens us and explains why light quality and color rendering are vital factors to consider before selecting your LED lighting solution.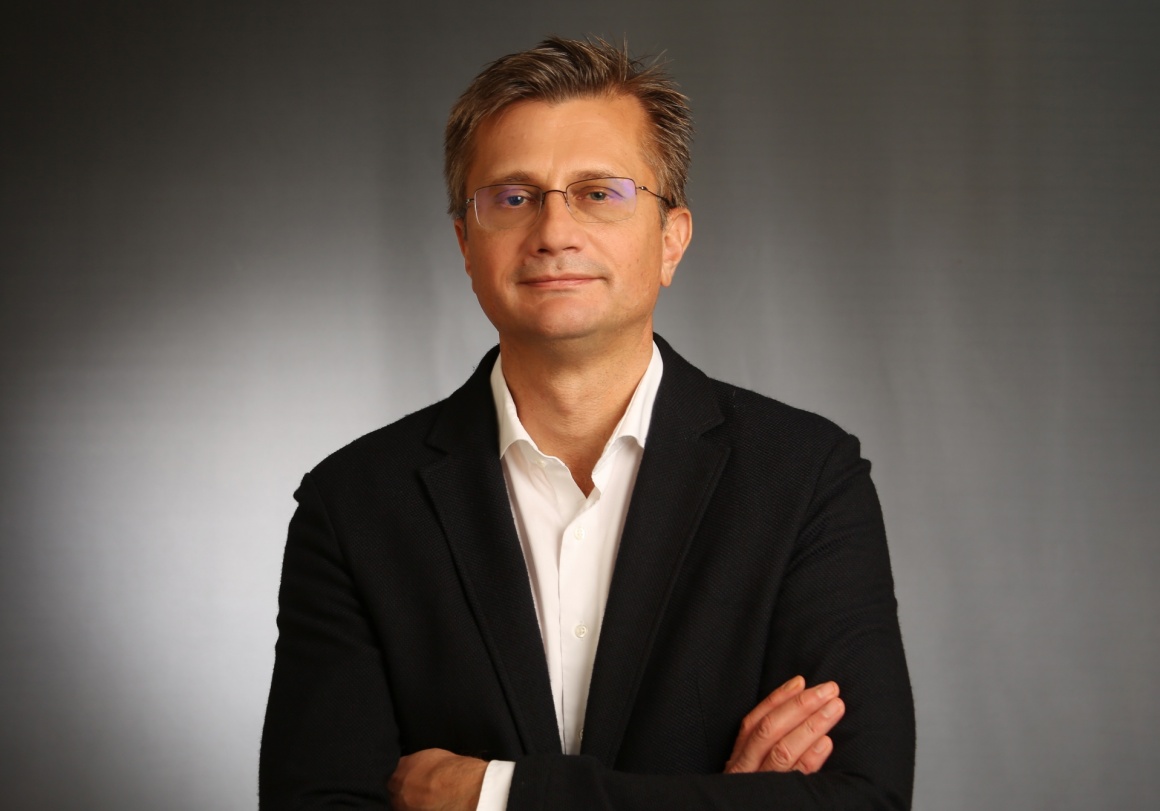 Source: LUMITECH
Mr. Tasch, apart from the nearly infinite possibilities and benefits of LED lighting solutions, are there any drawbacks?
Stefan Tasch: We presently see a mind shift when it comes to the best lighting for retail stores and products. Until now, LED light sources or LED lights were often used as trend-setting accessories that emphasized the lighting solution. Retailers aimed to express modernity and zeitgeist. During the early phase of LED adaptations, visible LED light points were actually considered a quality attribute, despite glare and annoying reflection on the products. In many cases, the light was not used to produce homogeneous illumination for merchandise. Instead, it was often aimed at other elements, such as price labels. If retailers used LEDs with poor color rendering for reasons of efficiency optimization, customers were essentially unable to experience the products in their true colors. This also made it difficult to perceive the edges of contours and haptics. All of this doesn't create a conducive sales environment.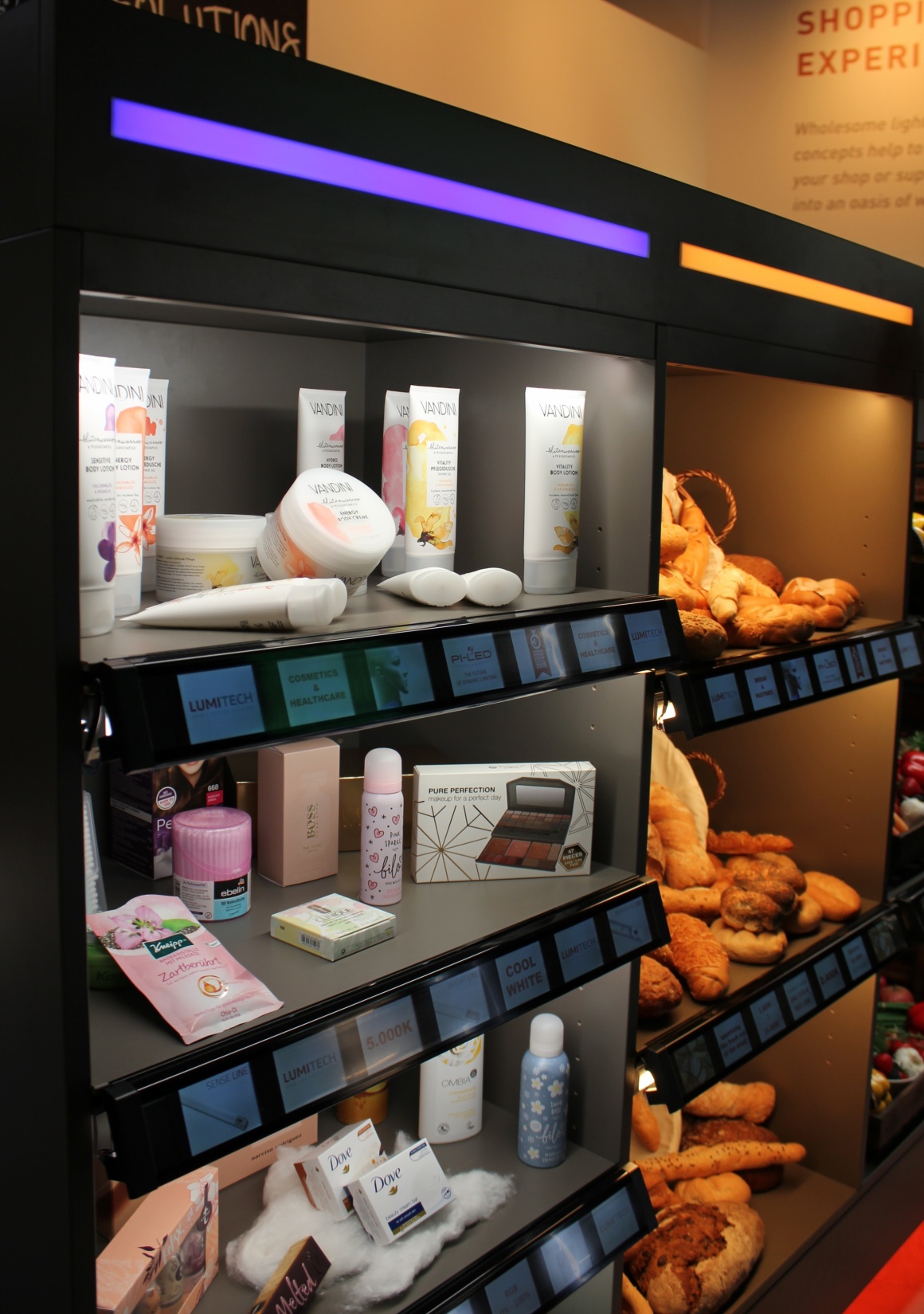 Source: LUMITECH
Are there LED lighting solutions on the market that make products look authentic and real?
For some time now, both lighting manufacturers and LED technology companies have focused on developing solutions that deliver an optimal and true-to-life rendering of products. The latest top trend in lighting technology fully avoids any direct or reflected glare. Retailers install lighting solutions that take more of a back seat, making them inconspicuous and ideally invisible. However, when it comes to their performance, they must be flexible all-rounders and illuminate merchandise efficiently, in a targeted and directional manner and with superior color rendering. This applies to anything from ceiling lights, door lights, and shelf lighting to track lighting on shelves and commercial refrigerators. From a technical perspective, this requires compact lights with sophisticated optical performance - often with 2-beam or asymmetric optics - that can be easily integrated to custom-fit the respective furniture type.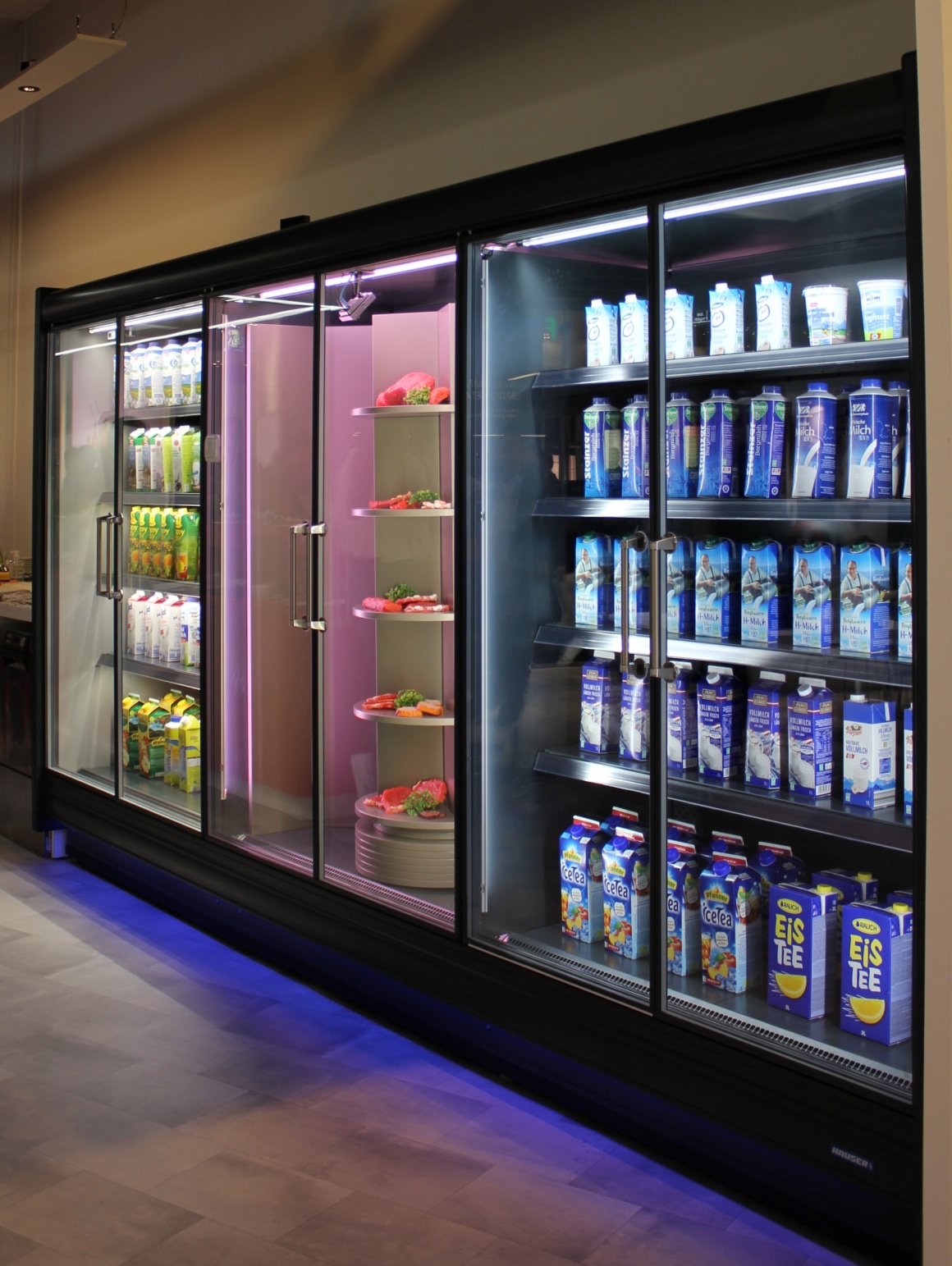 Source: LUMITECH
This eliminates glare and reflections and the lights disappear from view but do you still have an issue with low light quality, which can distort the true colors of products?
Apart from the miniaturization of lights, there is another important trend aimed at improving the shopping experience. The color temperature of lighting is adapted to optimally illuminate the merchandise. The key aspect here is that lighting is not meant to present a false image of the products. The goal is to intelligently adjust the white point to achieve an authentic merchandise presentation.
There are already many different available technologies to achieve this. The simplest one is static lighting with LEDs that are specially adapted to the relevant product groups. The other option is dynamic lighting. This solution is great for stores and supermarkets with their ever-changing product portfolios and requirements. Here, the light can be customized to fit the respective product by using a switch or an app. A key technology in this dynamic sector is the cutting-edge PI-LED approach, which can seamlessly produce all color tones of the white-light spectrum, ranging from 1,800K (candlelight) and 16,000K (clear blue sky), and provides the best lighting performance and color rendering.
Is it easy to retrofit existing stores with these technologies?
Generally, the refrigeration equipment manufacturer directly installs both static LED lights and innovative PI-LED technology into the units. For retrofitting purposes, both versions can also be integrated into existing stores using plug and play solutions.