Product • 17.04.2008
Colourful light accents the outdoor with the WE-EF FLC254 Colour Changer
All across a colourful landscape of glittering luminous outdoor advertising, lighting designers are focussing more and more on the effective use of coloured light. Carefully planned and implemented, colourful light can subtly emphasise, dominantly highlight or completely change the night time appearance of architecture and its surroundings. A new IP66 rated accessory has been developed to accommodate a gobo, for outdoor lighting with the FLC240 or FLC254 colour changer.
With around 150 different versions the WE-EF floodlight programme offers a comprehensive product range with respect to design and engineering; the right solution for almost every application of exterior lighting. The programme is rounded off by the FLC254 colour changer, which presents itself as a robust symmetrical distribution floodlight, equipped with simple to use, but well designed software. As with all the other WE-EF floodlights the colour changer is characterised by its high quality workmanship and choice of material, which also includes the unique 5CE anti-corrosion technology. The IP66 classified floodlight offers wide, medium and narrow beam distributions, depending on the lighting application. A tilt and lock system ensures precise and secure aiming of the floodlight, which has an integrated but thermally separated electronic control gear, as well as an integrated DMX control board.
WE-EF FLC254 colour changers are fitted with mechanics and specialized software sensitive enough to produce ultra smooth colour transitions and an almost endless mix of colours.
The construction guarantees reliable operation and minimum maintenance. The secret behind this is in one single master tray, which accommodates the entire mechanics including the dichroic colour filters. Made of solid aluminium and CNC machined it ensures minimal vibration and guarantees optimum heat dissipation.
The FLC254 colour changer is programmed with a Windows based
WE-EF Control®CMY DMX software with programmable database. It is possible to programme scenes, sequences, daily, weekly or monthly programmes. An integrated calendar can take into account special days or holidays. Depending on the size of the programme, it can be saved directly onto the control board of the FLC254 or an external interface (such as the WE-EF hand held HH1). The DMX outlets necessary for this are provided with the HH1 and the Colour Changer.
At light + building 2008, WE-EF will present for the first time additonal optical accessories for the floodlight series FLC200. A special IP66 rated accessory has been developed to accommodate a gobo, for outdoor lighting with the FLC240 or FLC254 colour changer. The diameter of the light (symmetrical distribution) can be adjusted simply and precisely from 1m to 15m. The distance to the object to be illuminated should ideally be between 3m to 50m.
The accessory can be retrofitted at any time. It is attached to the frame by a WE-EF "key hole system" as is standard with all the external optical accessories. It does not need to be removed for example to change the lamp.
Supplier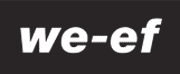 Toepinger Straße 19
29646 Bispingen
Germany