News • 08.02.2018
Carrefour's Market Peñalver store wins Best food and Supermarket Design prize
The retail design prize has been awarded in London by the UK publication Retail Week Interiors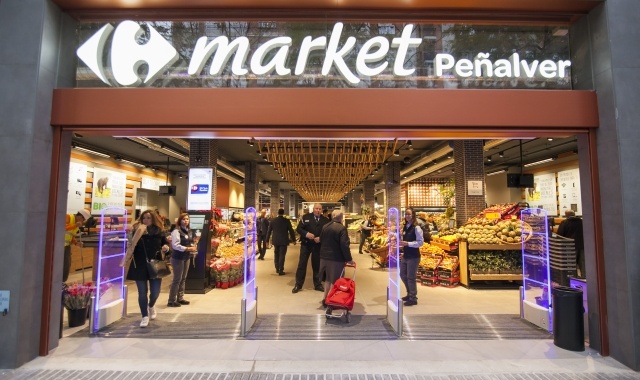 Source: Carrefour
Carrefour entered the Best food and Supermarket Design category beside other competitors from Iceland, Egypt, France, Swiss and the UK. This prize has been won in previous years by: 2016 Waitrose (London), 2015 Morrisons (United Kingdom), 2014 Waitrose (Swindon), 2013 Good Wine (Kiev).
The company opened the Market Conde Peñalver store in December, 2016. With this store, Carrefour launched a new supermarket concept committed to fresh market and seasonal produce, offering the largest selection of foods in Madrid. The new store is on calle Conde de Peñalver, Madrid, and employs 125 people.
In addition to the products on offer, the new supermarket also features all kinds of services designed to improve the shopping experience: home deliveries all over Madrid with a pay-from-home option, free Wi-Fi, phone charging station, digital terminals with product information such as allergen content and nutritional information, etc.
The supermarket also offers a range of "home care" services such as laundry and dry cleaning, pressing, garment alteration, haberdashery, shoe repair, home repairs, photo developing, and pet care – even a home manicure service for dogs.
Access for all in a 100 percent eco-efficient store
Market Peñalver is perfect for all shoppers, no matter their mobility requirements, with specially-trained staff on hand to help all customers and a plan for reduced-mobility shoppers. Among the facilities for reduced-mobility shoppers are special trolleys and counters, priority checkouts, wheelchair-friendly lifts, store guides in Braille, audio loops for the hard-of-hearing, backrests at information terminals, dual hand rails on staircases, etc.
This Market store is also innovative on the environmental front. It incorporates all the latest energy-efficiency technology, with resulting savings of 40 percent in electricity consumption and a 60 percent reduction in CO2 emissions. Market Peñalver includes a latest-generation cooling plant with new refrigerated displays, LED lighting in all areas (sales floor and warehouse), intelligent lighting control, and a new, high-efficiency air conditioning system.