Company News • 12.05.2011
"Brilliant-Mix" LED concept for warm white feel-good light
A new LED concept from OSRAM Opto Semiconductors achieves 30 percent greater luminous efficacy with a high color rendering index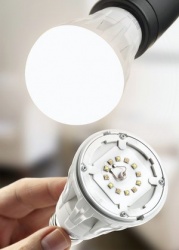 Warm white light with a high luminous efficacy (110 lm/W) and a color rendering index (CRI) of more than 90 are the result of the new "Brilliant-Mix" concept from OSRAM Opto Semiconductors. The intelligent color mix based on powerful Oslon SSL LEDs in EQ-White and Amber covers a broad white spectrum from 2700 to 4000 K. Depending on the required luminous flux, a different number of these LEDs can be combined to produce warm white feel-good light of high quality that will set new standards in general illumination applications.

This new LED concept is backed by in-depth OSRAM know-how in terms of the high-power Oslon SSL LED, expertise in color mixing and control and project-specific customer support. The main applications for the new concept include high-quality lighting solutions for residential and commercial premises such as shops and offices. The high quality of the light is based on the combination of a pleasant warm tone and very high color rendering properties. The high CRI ensures that colors and skin tones appear in artificial light as natural as they do in normal daylight. Test colors R9 (saturated red) and R13 (skin colors) are crucial for the natural rendering of red and skin tones. With CRIs of 78 and 98 respectively they have much higher values than most conventional light sources. The typical value for the general color rendering index Ra (averaged sum of test colors R1 to R8) is 92 at a color temperature of 2700 K. The luminous efficacy is also exceptionally high at more than 110 lm/W. For a comparable color temperature and comparable CRI that is 30 percent higher than warm white LEDs that produce white light using the principle of phosphor conversion. Even in a retrofit lamp system this concept can achieve 100 lm/W at system level.

Oslon SSL LEDs in EQ-White and Amber are used in the "Brilliant Mix" concept. Measuring just 3 mm x 3 mm, these LEDs are among the smallest in the 1 W class and can be closely clustered. This makes color mixing easier and also improves the optical design at system level.
To make it as easy as possible for customers to select and order the appropriate LEDs we have developed a logistical module concept. Christian Neugirg, Business Development Manager SSL at OSRAM Opto Semiconductors explains: "Planning and implementing LED lighting systems requires an immense amount of calculation, so we are relieving our customers of this tiresome task. Customers simply have to tell us the light color, the temperature of the board and the luminous flux they want to achieve, and our logistical module concept then works out which LEDs and how many need to be ordered to meet these requirements perfectly." The semiconductor specialist also offers application support for selecting the correct electronic control. Lamp and luminaire manufacturers therefore have new opportunities to create LED lighting solutions with warm white light and high brightness levels. Everything is now in place for LEDs to be used more and more for general illumination purposes without having to compromise on lighting comfort.

The "Brilliant Mix" concept has already been implemented in the Parathom Pro Classic A 80 LED lamp and in the PrevaLED system from OSRAM. These demonstrate the high quality of light that can now be achieved with LEDs.

Supplier

Marcel-Breuer-Str. 6
80807 München
Germany