Company News • 23.11.2011
537 km to Paris
Light sculptures from SCHOTT set accents at the "Pariser Tor" work of art in Mainz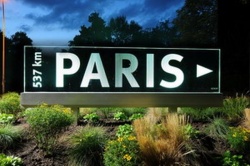 To underscore the historic relationship between Mainz and Paris in an artistic manner, the technology group SCHOTT produced two glass direction signs and presented them to the city of Mainz as gifts. One of the illuminated typographical sculptures points the way to the center of Mainz while the other shows the distance to Paris. Both are located on a traffic island in the middle of Pariser Strasse in Mainz. Here, they complement the "Pariser Tor", a work of art made of stainless steel tubes that welcomes visitors to the cathedral city.
These design objects that are 2.6 m long, 60 cm high and 3.4 cm thick are made of a 3-pane glass laminate. The letters that spell Mainz and Paris were laser-etched into the inside glass layer, a 19 mm thick pane of white glass. The outer panes of the glass laminate are made of 6 mm thick sheets of "Amiran", a glass that features an anti-reflective coating on one side. This coated special glass is known for how it minimizes reflections and thus makes it much easier to obtain a clear view of the letters. Dimmable power LEDs positioned 20 – 25 mm apart illuminate the display in the evening in a way that conserves energy.
A special lamellae laser engraving technique allows for the letters to be illuminated evenly with high intensity and ensures that the objects retain their transparency. SCHOTT Architecture + Design was not only responsible for designing and executing this two-part light sculpture, but also for managing the entire project until the complete ensemble was handed over to the city of Mainz.
These glass direction signs look just as filigree as "Pariser Tor" itself. Harald Pompl, a sculptor from Frankfurt, was inspired by the Arc de Triomphe when the city of Mainz contracted him with designing this work of art in 1990. Now, all those who drive past it can see at a glance what a long distance they still have ahead of them: 537 kilometers.
SCHOTT is an international technology group with more than 125 years of experience in the areas of specialty glasses and materials and advanced technologies. SCHOTT ranks number one in the world with many of its products. Its core markets are the household appliance, solar power, pharmaceuticals, electronics, optics, transportation and architecture industries. The company is strongly committed to contributing to its customers' success and making SCHOTT an important part of people's lives with high-quality products and intelligent solutions. SCHOTT is committed to managing its business in a sustainable manner and supporting its employees, society and the environment. The SCHOTT Group maintains close proximity to its customers with manufacturing and sales units in all major markets. Its workforce of around 17,500 employees generated worldwide sales of approximately 2.9 billion euros for the 2009/2010 fiscal year. SCHOTT AG, with its headquarters in Mainz (Germany) is owned by the Carl Zeiss Foundation.
Supplier
Hüttenstraße 1
31073 Grünenplan
Germany