Best practice report • 19.01.2017 POCO uses ESLs: digital price tags benefit customers and employees "You can't put a price tag on preventing long wait times at the checkout"
Over the past few years, digital price tag or electronic shelf label (ESL) technology has improved considerably, especially in the area of visual display. Recently furniture discounter Poco has started to use ESL systems at its store in Goch, Germany – much to the delight of its staff members.
"Lately, my employees are especially happy to see me when I visit our market in Goch," says Sebastian Schrader, Head of Organization at Poco. The reason for this: since September 2016, the ESL system installation has –among other things- made price changes of the roughly 7,000 products much easier.
At the beginning of last year, Poco had decided to use digital price tags in a pilot project to simplify the numerous price changes – more than 10 million processes – it conducts each year. "Compared to manual paper labeling, this system has made our pricing and tagging processes much quicker and it allows us to change prices several times a day. It also adds a high degree of reliability, ensuring that the right prices are on the product at the right time since the process is fully automated, " explains Schrader.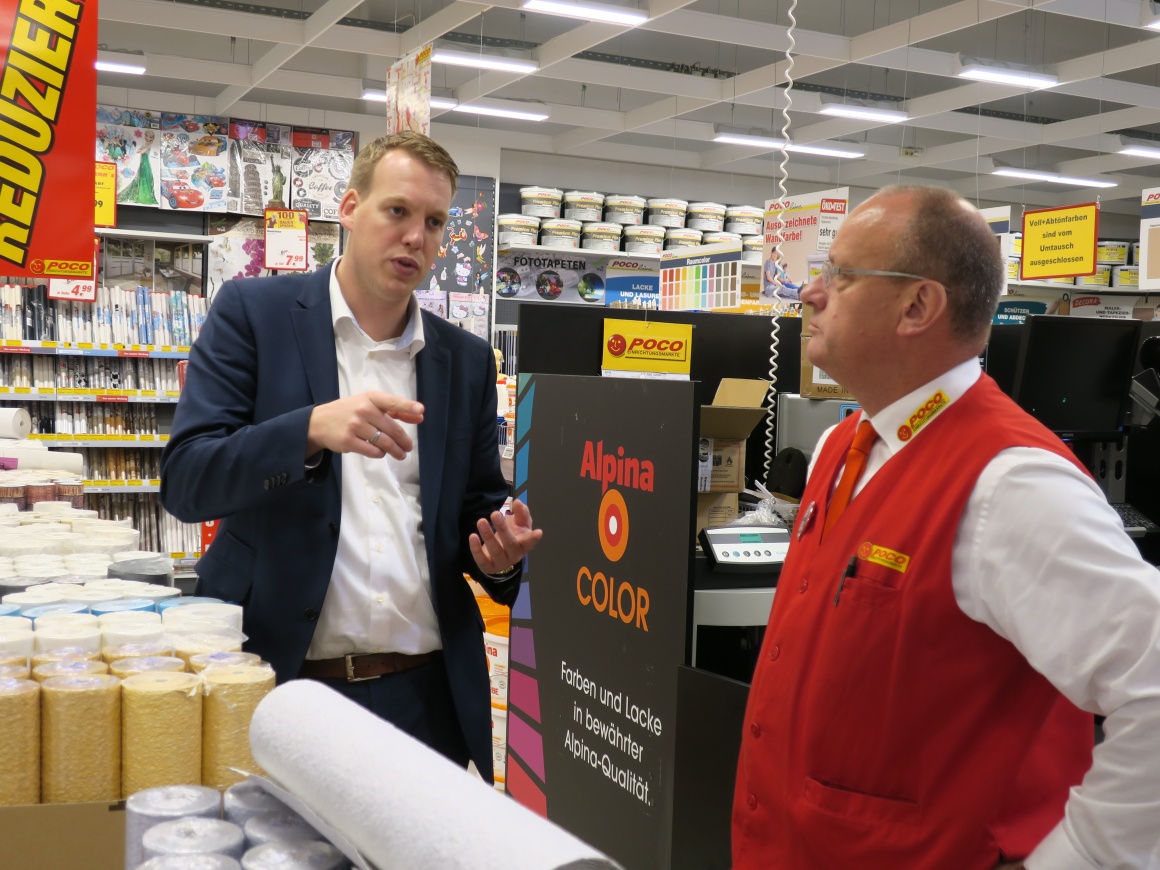 Source: POCO
"It's not about reducing labor costs with ESL" (Kai-Uwe Jensen)
From his point of view, it's not only the employees but also the customers who benefit from this streamlined process: the prices are always updated and the associates are able to devote more time to customer service. He adds, "It was important to us to communicate that the project is not intended to reduce labor costs."
Kai-Uwe Jensen, Sales Manager Germany at Delfi Technologies, the ESL solution provider for Poco, explains, "It is a common misconception that ESL systems result in a reduction of manpower because this technology also takes work." Having said that, he sees the greatest advantages in the time flexibility because price changes can be scheduled and the transparency of this digital technology. "The system behind ESL generates error logs of incorrect prices. Meanwhile, with paper labels, you don't notice that something went wrong until the customer is already at the checkout. You can't put a price tag on preventing long wait times at the checkout," Jensen emphasizes.
ESL is red hot – advantages thanks to ePaper technology
The latest development in the ESL sector makes it possible to display more than just the price. Next to black and white, red as well as simple graphics are now also available to accommodate visual display. This is made possible by ePaper technology. It eliminates some of the drawbacks of previous LCD displays. Here, visual contents look the same from every angle due to the short distance between the imaging elements and the surface. There is no flicker thanks to the static display.
Cross-selling campaigns can be highlighted with symbols like diamonds or stars for example. A red border around the price tag can alert sales floor associates about product availability at the warehouse or indicate increased sales. Kai-Uwe Jensen explains how this works. "An inventory management system should make it possible for retailers to display logos or to distinguish organic products by including product characteristics. An image that has been stored in templates can then be assigned to specific characteristics. The ESL provider's system must also ensure access to this data."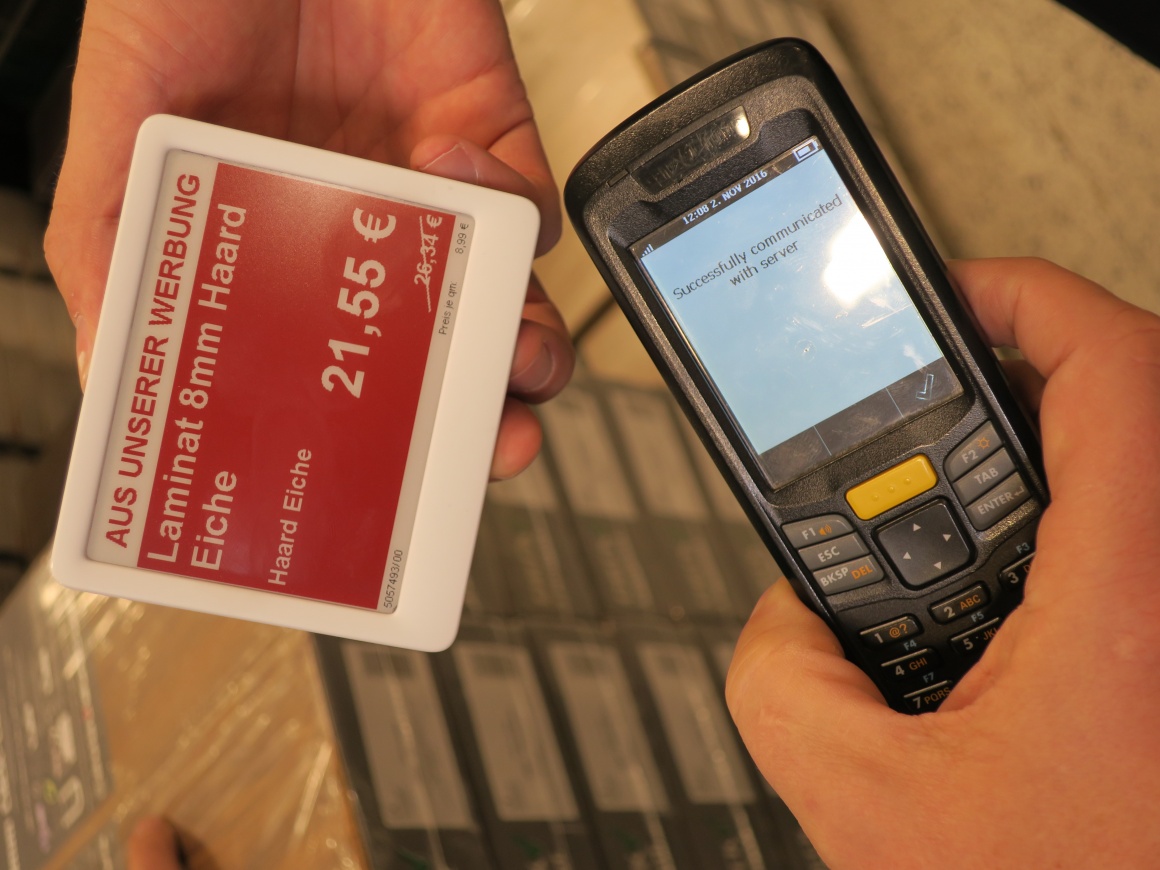 Source: POCO
The challenge: attaching the labels to the display shelves
On the one hand, software that's compatible with the inventory management system and the applicable characteristics need to be stored, while it is also necessary to determine the optimal way to attach the actual labels to the shelves. In the case of Poco, this presented the biggest challenge.
Sebastian Schrader explains, "After we selected the first 3,000 top items we wanted to tag – from the special items section and not the furniture selection – we took a look at the way we present our merchandise in the market together with our shelving supplier and the ESL service provider. This revealed how we wanted to position the labels on the products in an easy-to-read format for customers. Right now, special attachments are being made for us."
During a second step, the best label sizes for each product, article, and marketing medium were selected. "At the moment, Poco uses five standard label sizes, ranging from small size Chroma 16 for fasteners that are displayed very closely together all the way to Chroma 74 for boxed items that are showcased in bulk, " he adds.
Finally, the layout of the labels was created by associates in the organization department. They are also the contact persons if there are any issues at the store. "We provided in-depth training to three additional people on site at the store to handle details. For example, they know how to create labels and take care of defective ones," Schrader adds.
All sales floor associates who work in the areas that apply ESLs know the system and are able to assign the labels to an article using handheld devices; and they are not at all afraid to use them. According to Schrader, the costs of the ESL installation in Goch are in the six-figure range. And Poco's confidence in technology goes even further. "Next year, we are going to equip two more stores with digital price tags – one new and one existing store," he says.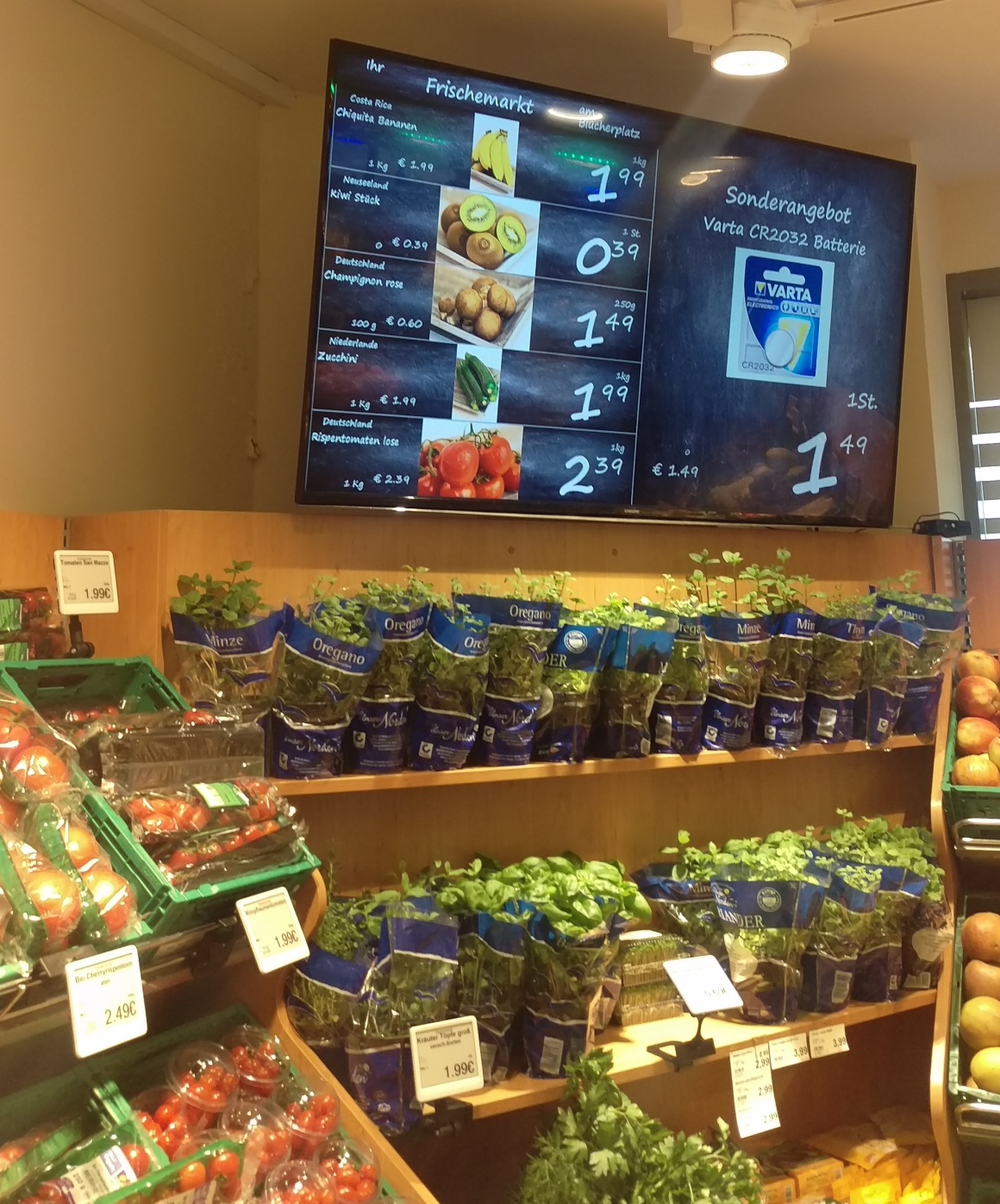 Source: Jensen
Small businesses can also benefit from ESL
"ESL systems are not just suited for larger stores," says Kai-Uwe Jensen of Delfi. Small-sized retailers can also benefit. "After all, you don't have to equip the entire product assortment all at once with electronic shelf labels." For example, the Frischemarkt (English: Fresh Market) at Blücherplatz in Kiel uses electronic shelf labels for fruits and vegetables, sweet goods and Maggi products. In addition, weekly deals in the produce department are showcased on a large screen via ESL software. "It's important for retailers to understand what they generally would like to achieve with ESLs. Once that's clear, the technology can be used to deliver the best results," concludes the software expert.